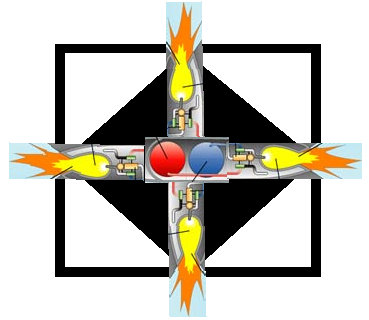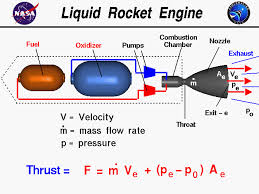 Foguete seis sentidos modular empilhável
(alto, baixo, direita, esquerda, frente, atrás)
Bocais queimam biocombustível/oxidante ou comprimem ar oxidante para dentro.
Sandaerocopters/Sandaerockets podem ser anexados no interior e/ou exterior dos cantos de Sandaerocopters, Sandaerockets ou Sandaeroships maiores.
external/internal
microwave/laser/gaser
heat of air and/or fuel




Carbon Composite
Quantum Rocket
Vacuum
LaserMaser
QUANTUM FOGUETE usa moléculas, atomos, elétrons, fótons e/ou gravitons expelindo-as para trás para avançar e para gerar vácuo para acelerar avanço. Micro-ondas/ laser interno/externo fotônico podem aquecer o ar (gás da atmosfera) quando disponível e/ou combustível interno líquido para gás. Quantum externo pode ser transmitido por rede externa como Sandaeronet (microondas/fótons), Solaser (laser/fótons) e/ou Uniqua (gaser/grávitons). Dá alcance ilimitado ao foguete quando adicionado ao impulso de pressão quantum (espelho/laser/fótons, plasma/gaser/grávitons), após o impulso inicial, entrando em uma rodovia laser e/ou gaser. External/internal Maser (molecules propelled or combusted), Easer (electrons), Laser (photons) and/or Gaser (gravitons) can clear atmosphere (quasi-vacuum) in front/rear. including Sandaeropipes, circular, spiral and/or straight configurations.
QUANTUM VACUUM or quasi-vacuum can be also molecular, atomic (ionic), electronic, photonic and gravitonic with direct correlation with potential of acceleration of a Quantum Rocket with the highest speed being achieved by a gravitonic vacuum (black hole) and gravitonic rocket/sail (gaser). Space is a quantum field that can be propelled and/or vacuumed through.
QUANTUM ENERGY, molecular, atomic (ionic), electronic, photonic and gravitonic, can come from interior and/or exterior of the rocket/vehicle.

LASER ROCKET muda de absorção do calor do laser para refletir impulso do laser para potencialmente a velocidade da luz: Sandaeroship pode fazer transição de potência de flutuabilidade, hélices, calor combustível/ar maser-laser foguete para espelhar pressão de laser-vela na Espaçovia Solaser. Laser-rocket-sail-space-ships use Solaser external lasers to gain atmosphere/gravity/space fuel acceleration, then as photonic pressure on mirror sail for space acceleration towards light speed. Geosync orbit or polar Solaser allow ground/space laser-rocket sync.
WATER ROCKET electric heat turns water to vapor, electrolysis turns vapor to hydrogen and oxygen that can recombine in combustion and/or reach plasma with interior and/or exterior photonic laser heating and exhaust impulse. Solaser Network (Sandaerolaser, Sandaeropipe/LaserPipe) can produce H2 as energy battery/fuel/plasma/exhaust impulse from H2O. Electrons/Photons lower heat can accelerates H2O electrolysis or higher heat can generate plasma break off: Electricity/Laser+2H2O=2H2+O2=Impulse.
LaserPipeRocket Impeller/laser circular formation heats/pumps in external gas (air, vapor, hydrogen), plasma exits side rockets, adding external energy, matter, reducing gas resistance/attrition and adding mirror-laser impulse post-gravity/atmosphere.
Exterior Laser-Pipe creates molecular vacuum outside rocket, interior Laser-Pipe sends heated gas in, laser heats gas, rocket expels plasma, mirror shuts exhaust when atmosphere/gravity cleared, laser-mirror accelerates Laser-Rocket. Land-Atmo-Geo Laser-Pipes orbital stations after Laser-Rocket flies through maintain rotating sequence of Laser impulse as Earth rotates relative to unidirectional Laser-Rocket. Venus-Earth-Moon-Mars Laser Highway add/sustain acceleration to potential light speed.

ELECTRIC ROCKET, e-rocket, uses electric energy to microwave any gas, as air, to blast plasma backward to achieve forward movement and/or electric to light/mirror photonic laser.

ROCKET CAR, Rcar module, uses water photo-electrolysis hydrogen+oxygen rocket or electric microwave/laser gas plasma e-rocket acceleration, electric linear motor acceleration, laser quasi-vacuum and laser mirror pressure acceleration, in a laser pipe (Sandaeropipe/laser), carbon composite pipe/tunnel, at highest horizontal Sandaerotrain air level, vertical Sandaerovator/tower/pyramid or underground/water tunnel.

Módulo especializado só-foguete que pode ser combinado com outros Sandaeorockets, Sandaerocopters (só-multicóptero) e Sandaeroships (híbrido multicóptero-foguete-dirigível). Sandaerocopters ou Sandaerockets podem ser anexados no interior e/ou exterior dos cantos de Sandaerocopters, Sandaerockets ou Sandaeroships maiores. Os módulos podem ser empilhados verticalmente como um foguete tradicional ou em uma configuração de pirâmide para lançamento de mono-estágio ou multi-estágio e carregar qualquer quantidade de carga e/ou passageiros a qualquer distância. Cada módulo carrega tanque de biocombustível (etanol/metanol), tanque de oxidante (ar/oxigénio), compressor de ar e bocais de foguete de seis sentidos para queimar biocombustível/oxidante e comprimir ar no bocal oposto.

O bocal inferior queima combustível/oxidante até que este só tenha o suficiente para se separar e retornar/manobrar para o ponto de lançamento site. Os bocais superiores/laterais coletam e comprimem o ar na ascensão. A ascenção vertical do foguete atinge uma posição estacionária em altitude orbital para depois detonar foguetes laterais para atingir velocidade orbital/ escape sem resistência do ar. Usa muito menos combustível/oxidante que foguetes tradicionais, pode transportar cargas/passageiros ilimitados com multi-módulos a qualquer distância e é reutilizável/ manobrável usando bocais em seis sentidos (alto/baixo, direita/esquerda e frente/atrás). Foguete manobrável quente (combustível+oxidante) ou frio (oxidante/ar).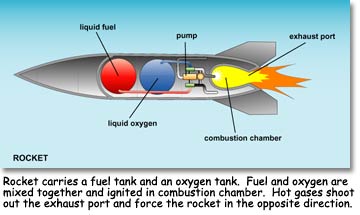 LaserPipe Rocket










LaserPipe
Plasma
Gas
Rocket
Impeller